[vc_row][vc_column][trx_block title=»CALPE»][vc_column_text]Calpe has a great variety of dives to do, thanks to the famous Peñón de Ifach.
Thanks to its great visibility and the possibility of diving on one side of the Rock or the other, it becomes a diving area that a diver must know.
As possible places of immersion in the Peñón de Calpe, we can distinguish the following: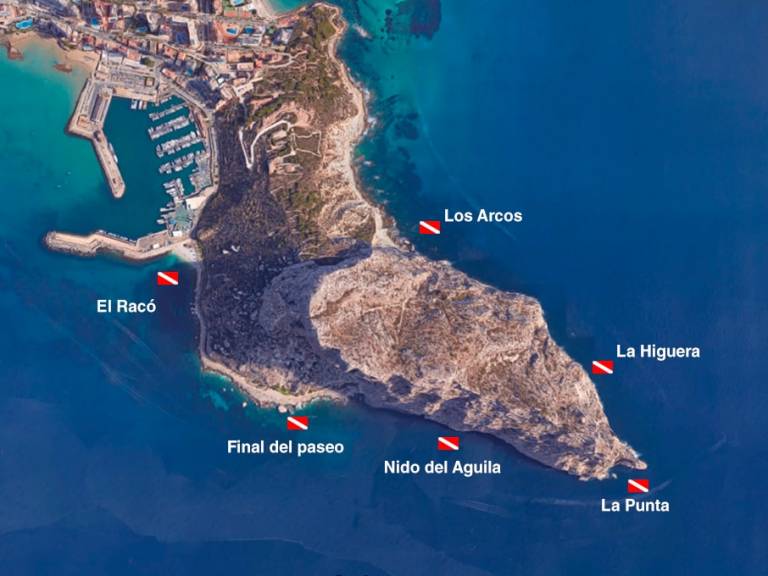 [/vc_column_text][/trx_block][vc_column_text]
EL RACÓ
Shallow dive in the area, with a maximum depth of 12 meters, ideal for a second dive after exploring the deep dives of the rock, in the dive we will be able to see a small sunken ship at a depth of about 7 meters.
FINAL DEL PASEO
We dive at the end of the walk, where what could be an old Roman quarry is located, the depth of this dive is around 15 meters, and it is characterized by a large amount of stones, which could be discards from the old quarry.
NIDO DEL AGUILA
This dive is called like this, because from the anchoring site you can see an old eagle's nest, the maximum depth is around 24 meters, making it a dive for advanced divers. We dive following the wall of the rock, taking great care to check all the small holes, where conger eels and moray eels tend to hide.
LA PUNTA
The deepest immersion of the rock, the anchorage is on a large rock around 30 meters deep, this area being so deep and little visited, it is characterized by the large size of the animals that live there, conger eels, moray eels, lobsters …
LA HIGUERA
We anchor in front of a wild fig tree that emerges from a cleft in the wall, hence its name, this dive is also for advanced divers, since the maximum depth is 24 meters. The dive is characterized as the entire north face of the rock by large stones where banks of bream and obladas take refuge.
LOS ARCOS
The star dive of the rock, with a maximum depth of 12 meters, the large blocks of stone detached from the cliff for hundreds of years have formed a labyrinth of rocks, arches through which you can pass underneath and tunnels, where they abound inside sponges and anemones.[/vc_column_text][vc_raw_html]JTNDY2VudGVyJTNFJTNDYSUyMGhyZWYlM0QlMjJodHRwcyUzQSUyRiUyRnd3dy5idWNlb291dGxldC5jb20lMkZyZXZvbHV0aW9uJTJGJTIyJTIwY2xhc3MlM0QlMjJmaC1idXR0b24tcmVkJTIwZmgtaWNvbi0tYW5jaG9yJTIyJTNFQk9PSyUyME5PVyUzQyUyRmElM0UlM0MlMkZjZW50ZXIlM0U=[/vc_raw_html][/vc_column][/vc_row]