TRY DIVES
Try Dives
The
try dive
is the first step you have to take if you want to be part of the world of
diving
. It is the first contact with the wonderful underwater environment. For this experience, a diving instructor will explain, in a simple and brief, the basic notions of this sport: how the equipment works, how you have to breathe, move your legs and how you must act underwater. You will experience the incredible feeling of weightlessness as you float on the water with your
autonomous diving equipment
and enjoy the underwater life that takes place on the calm shores of the Mediterranean in a safe way.
What does it consist of:
When you arrive at the facilities of the diving center you will receive, on the part of an instructor, a brief talk to tell you the basics you need to know to perform a diving baptism : how flutter, how to breathe with the regulator and the main signals to communicate underwater.
Next, they will give you the necessary equipment and you will embark to go to a shallow cove. And the fun begins! You will go down to 6 meters deep.
The total activity time is approximately 2.5 hours
What includes:
Basic theory of diving activity
Complete equipment
Ship travel
Activity
1 instructor for every two divers
Discount on your diving initiation course for the amount of the christening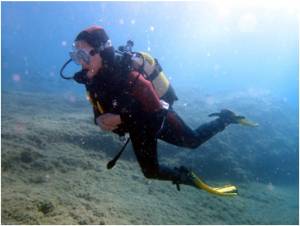 What do you need:
Swimsuit, towel, flip flops and change clothes. In the center you have dressing room, bathroom and showers.
If you are prone to dizziness, we recommend you take biodramin with caffeine (avoid drowsiness) at least 30 minutes before.
Requirements:
Be over 10 years old
Know how to swim
Not having health problems. You can ask us if you have any questions.
Keep in mind:
Prices are per person.
Special offers for groups. ASK US ….
Standard price per person at any location: 85€