Altea
The dives available in Altea, are divided into two different areas. Cape Toix and the Peñón de Ifach.
Altea has a large number of dives that at Revolution Dive Altea we visit on a regular basis. Each dive site is different and divers always experience a unique experience. If you are learning to dive, continuing your training as a diver or if you are already an experienced diver, we are sure you will enjoy your diving experience with us, here at Revolution Dive Altea.
Our dives are programmed to perform them in optimal conditions in relation to the state of the sea and nature; and although conditions may be unpredictable, they rarely change rapidly. Our goal is always to dive into our usual dive sites, because safety is always our main concern and some reprogramming may be necessary in the short term. We offer a wide selection of dive sites for all tastes and levels. Some places are further away and others require diving experience at an advanced level. Our main dive sites are shown below, with a more detailed and exhaustive description of the dive site … Remember to consult our tips and insider information that you will find next to each dive site ….
---
Cabo Tóix (Wall Mascarat)
Located at the end of Cabo Tóix it is also known as La Pared del Mascarat, it is a long cliff that is gaining depth as we approach towards the end. In this place there are several dive sites with different characteristics despite being located one behind the other. It is ideal for drift dives to La Cala or El Oso. Here you can find large rock formations, at a depth of 14 to 30 meters. We will also see a lot of marine life using the spaces created between the rocks as a breeding ground. We can often see groupers, large schools of snapper, stonefish and moray eels of considerable size!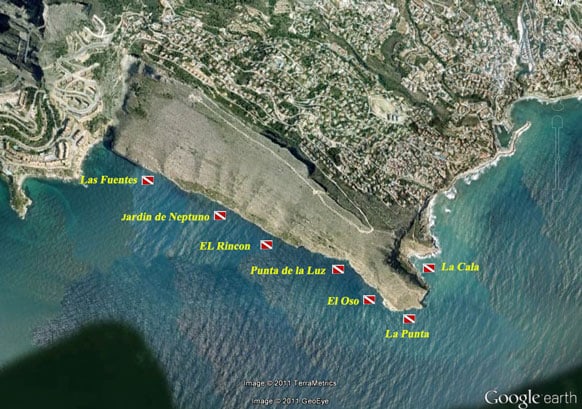 Las Fuentes
Located at the entrance of Cabo Toix, it is a wonderful diving area that we visit almost every day. If you are participating in one of the courses, diving at this dive site can guarantee that you have many things to see and do. An easy and fascinating dive. There can be no better place to see the incredible underwater world. Located below the cliff there is a freshwater lake, from which springs a source of water that escapes the Mediterranean Sea. You can see the contrast of fresh water with salt water, and feel that the water here maintains a constant temperature of 19 degrees (cool in summer and warm in winter).
Garden of Neptune
A very cool dive site that offers a wide variety of marine bottom types. It is an ideal place to investigate the numerous reefs and crevices. In some places, the sea wall looks like a Swiss cheese and gives us the opportunity to see many examples of conger eels and moray eels. In the Garden of Neptune the depths oscillate between 8-18 meters. We often start and end the dives in different places and, our boat picks us up at the end of the dive. Another favorite for our night dives. This area offers a great diving experience and there is always something new to see.
The corner
In the center of Cabo Toix we find El Rincón, with an average depth of 8 meters and a maximum depth of 18 meters. Here we can see a great diversity of marine life and the topography of the bottom. At a very shallow depth, we find a large number of cracks and small open caves, and while we descend we can explore sandbars and large rock formations.
Point of light
One of our favorite dive sites in Cabo Toix; This diving area offers a wide range of diving opportunities. We anchor on a rocky platform about 6 meters deep, and in the immediate area we can find sandy bottoms, seagrass plains and coral outcrops. There are also numerous caves open on the wall, the depth reaches 18 meters. An excellent opportunity for photographers. Our instructors will always be looking for something new. Very often Barracudas banks can be observed in this area.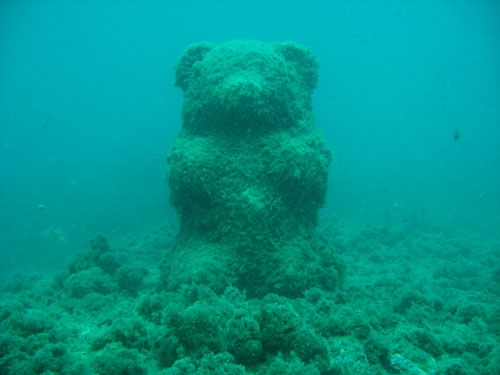 The Bear
This area offers us the greatest variety of fish life and the contrast of the sea bottom on our coasts. A mixture of sandy bottom, posidonia, large rock formations and a sea wall, offers us a lot of opportunities to see a great diversity of marine life. It is one of the favorite dives of our most experienced divers. From El Oso, we will regularly visit Cueva del Oso, a fantastic experience for those who wish to enter. One of our hidden secrets of Cape Toix. You will not stop being impressed!
The Cove
The perfect place for all levels of divers. Located in a small bay between Altea and Calpe. It is anchored to a depth of 5 meters. Here you can do dives at a depth of 18 meters. Large schools of small fish make this place perfect for beginners and students. For more advanced divers we often combine this dive site as part of a drift dive from Toix Point.x.
---
Peñon de Ifach – The wreck
If the visibility is good, this is a very good place to dive, due to the great variety of marine life that lives here. In this dive there are different rock platforms that go from 12 to 26 meters. It is a good place for our Advanced Open Water divers. We dive in the foothills of this imposing solitary mountain with great cliffs, with a great diversity of dives, from shallow dives such as the arches, to quite deep dives at the tip of the cliff.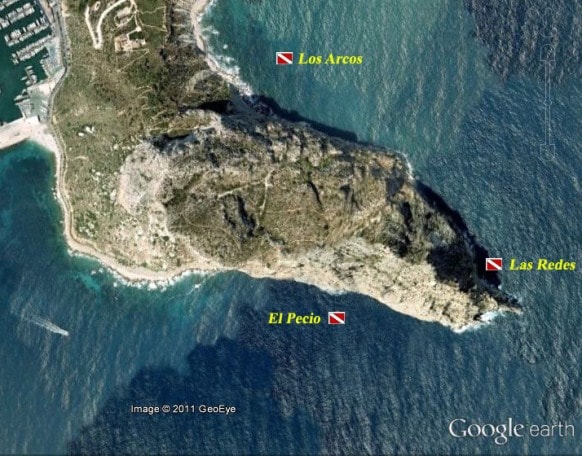 The arches
We present the famous arches of the Rock of Ifach, where we can find a large number of marine creatures of all varieties. The great interest of this dive is that it only has a maximum depth of 12 meters and yet, you can see everything (here we have seen the rare seahorse). Really a fantastic dive site. Obligatory for camera enthusiasts.
The nets
Below the rock surface of the Peñón de Ifach, this dive site is famous for its large rock formations and the biodiversity of its marine flora and fauna. The name of Las Redes is because the area was once covered by old fishing nets. These networks have been recovered by divers and Project AWARE groups, returning to this place the great beauty that characterizes it. The depth varies between 12 and 30 meters.
The skirt of this imposing solitary mountain with great cliffs offers us a great diversity of dives, from shallow as the arches, to quite deep dives at the tip of the rock.
---
Middle Island
The Middle Island is between Altea and Benidorm. The locals call it Isla del Pulpo, due to the large number of our eight-legged friends that congregate here. An ideal location for multilevel and deep diving. A coral reef located on one side of the island that offers amazing underwater landscapes as well as the possibility of diving in a circuit around the island, where you will experience all its beauty and its diversity of underwater life.
---
Elephant Cave
Located between Altea and Benidorm, it is an underwater cave known as the Elephant Cave, due to the rock formation above the entrance. The entrance of the cave is 12 meters deep, in crystal clear waters; Once you reach the end of the cave you can see good examples of stalactites. The cave itself is 25 meters long. The outside of the cave is mostly sandy, providing a safe platform for both those who do not wish to enter the cave, and for practicing diving skills.
SITUATION / CONTACT
Revolution Dive Altea
Puerto Deportivo Luis Campomanes
Edificio Comodoro, Local 61
03590 Altea (Alicante)
Phone: 34 618 406 991
Email: reservas@revolutiondive.com
HOW TO GET
If you use the A7 motorway traveling from the north or the south you should always take the exit of Altea (Exit 64).
Once you have left it, you must drive on the national road (N-332) in a northerly direction (towards Calpe). After 1 km you will see to the left of the road, the urbanization "Altea Hills", one more curve and you will see on your right the supermarket "More and More", right there, you will see a sign (of indication to the right) of " Puerto Deportivo Luis Campomanes / Mascarat ". You must go downhill until you reach the port and you will find us inside it, 20 m from the restaurant "Sergio".
If you are traveling from the north, by the national road (N-332), you must follow the indications in the south direction, Altea. Shortly after leaving Calpe (on the left) you will pass through three tunnels (tunnels of the Mascarat) in 1.5 km. You will see the sign, on the right side of the road, of "Puerto Deportivo Luis Campomanes / Mascarat" ( if it serves as a reference, in that curve, you will see a wooden church with a golden roof). You must go down there, taking the second exit at the small roundabout, crossing a small bridge, always down, once you arrive at the port, you will find us inside it, 20 meters from the restaurant "Sergio".
If you travel by plane, the nearest airports are Alicante and Valencia. Both have low cost companies. From Alicante you are at 60 minutes direction Valencia (North direction) and from Valencia you are at 90 minutes direction Alicante (dirc.sur).
If you have any problems in finding the center call us at +34 618 406 991.
Free space in the diving center