snorkel
We hold Daily Snorkel Tours in the bays close to our Scuba centre.
The Daily Snorkelling routes have been created for all the public, not just divers, we can learn the value hidden in our local waters, which fortunately remain in very good condition. We have chosen the bay close to our Dive Centre (Mascarat Beach) due to its rich environment and conservation. In both places, you can see great prairies of oceanic Posidonia, present for over 300 years. With generally calm waters and good visibility, these routes offer a large marine biodiversity. All routes are guided by our Instructors with the emphasis on enjoyment and safety. Tours usually last 1 Hour and include a FREE photographic report that you can download. This activity is suitable for all ages, including children from 10 years of age.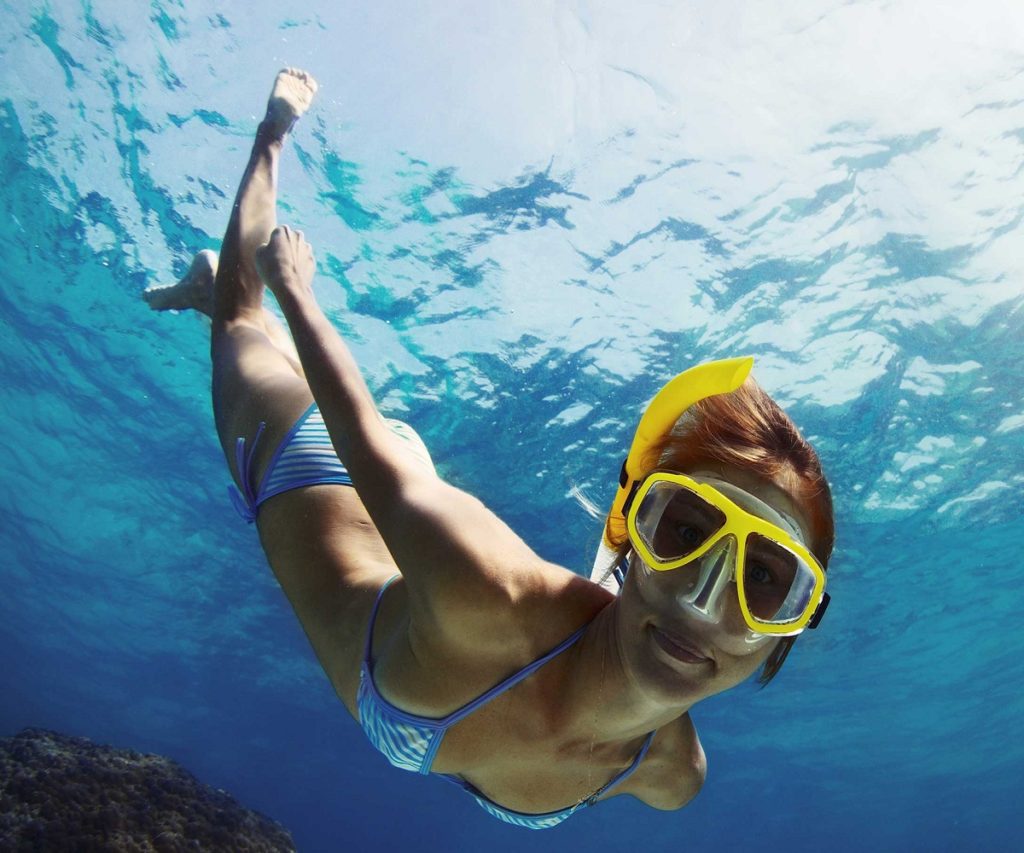 RUTA ISLETA DE L'OLLA
The marine extension of Altea L'Olla is part of the protected  Serra Gelada Natural Park.
With a fertile rocky beach platform , dropping to about – 3m – 6m , full of nooks and crannies that are home to small octopus , and terraces that shade the shoals of sea bream.
After putting on our fins, mask and snorkel and sun-protection we move by water to separate snorkelling to about 30 or 40 meters from the beach. This sea bed changes with the initial presence of polished round stones to a flat rock platform, we will observe small and reddish brown algae and colourful pavonica sea grass, indicative of the good quality of these waters.
Following a line parallel to the coast observing different environments and spotting numerous species from fish grazing in groups on the sea grass, groups of Damsel Fish both in the rocks and between plants, colourful Wrasses, Sea Bream and Goldin, and perhaps even catch a glimpse of a predator such as Grouper or Barracuda, which are always ready to surprise some small prey. As the seabed grows in depth we can of the meadows of sea grass before heading back to our starting point.
RUTA MASCARAT
This small pebble beach south facing is protected by a breakwater on the right side and a mountain on the left. Headed out to sea we start our route, and from the very beginning we can see the abundance of sea grass along the wall. As we notice the sea bed drop away to sandy areas we see the presence of thin sheets of Cymodocea nodosa ( a protected sea grass) , which like the Posidonia Oceanica is a herbaceous plant with stems , roots, leaves and flowers.
Between the sand prairies if you look carefully we may catch a glimpse of small Cuttlefish and Octopus. We will also see large shoals of Goldin and reaching a rocky outcrop be able to see many different types of starfish. A really beautiful route enjoying transparent waters, extremely fertile and a great representation of the fauna to found on the Mediterranean coast.