The try dive is the first step you have to take if you want to be part of the world of scuba diving. This is the first contact with the wonderful underwater environment. For this experience, a diving instructor will explain to you, in a simple and brief way, the basic notions of this sport: how the equipment works, how to breathe, how to move your legs and how to act underwater. You will experience the incredible feeling of weightlessness as you float in the water with your scuba diving equipment and enjoy the underwater life that takes place on the calm coasts of the Mediterranean in a safe and calm way.
What it consists of:
When you arrive at the dive centre you will receive a short briefing from an instructor to tell you the basics you need to know to do a dive dive: how to fin, how to breathe with the regulator and the main signals to communicate underwater.
You will then be given the necessary equipment and embark to head to a shallow cove, and the fun begins! You'll dive down to a depth of 6 metres.
The total time of the activity is approximately 2.5 hours.
What is included:
Basic diving theory
Complete equipment
Travel by boat
Activity
1 instructor for 2 customers
Discount on your introductory scuba diving course for the amount of the baptism.
What you need:
Swimming costume, towel, flip-flops and change of clothes. There are changing rooms, toilets and showers at the centre.
If you are prone to motion sickness, we recommend taking biodramine with caffeine (to avoid drowsiness) at least 30 minutes beforehand.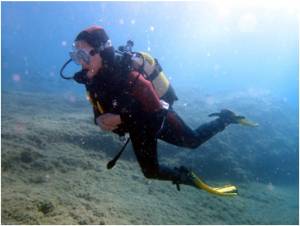 Requisitos:
Be older than 10 years old
Knowing how to swim
No health problems. You can ask us if you have any questions.
To be taken into account:
Prices are per person.
Special offers for groups. CONTACT US….
Price for try dive at all locations: 95€ per person